Sony 24mm F/1.4 GM E-mount Full Frame G Master Lens
CODE: SONY24MM14GM
E-Mount Lens/Full-Frame Format
Aperture Range: f/1.4 to f/16
Two XA Elements, Three ED Elements
Nano AR and Fluorine Coatings
Direct Drive Super Sonic Wave AF Motor
AF/MF Switch; Internal Focus
Focus Hold Button
Physical Aperture Ring; De-Click Switch
Dust and Moisture-Resistant Construction
Rounded 11-Blade Diaphragm
Description
Compact G Master™ wide prime lens w/ stunning wide-open resolution
The FE 24mm F1.4 GM realizes consistently high resolution across the entire frame and delivers soft and natural bokeh - a signature feature of Sony's G Master lens series. It also boasts a new optical design comprised of 10 groups with 13 elements, including two XA (extreme aspherical) and three ED (Extra-low Dispersion) elements. The incorporation of two XA elements ensures that point light sources can be accurately reproduced, making the FE 24mm F1.4 GM a compelling proposition for astrophotography. For impressive clarity, Sony's unique Nano AR Coating is applied to reduce lens flare and ghosting, even in landscape shots where the position of the sun can be problematic with a normal lens.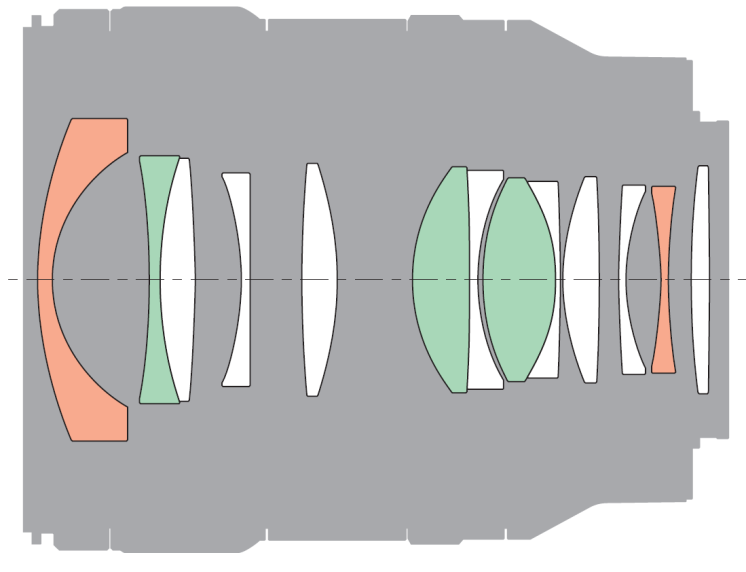 ​
F1.4 max aperture
The F1.4 max aperture maintains exposure and depth of field, allowing you to isolate your subject from the foreground and background with amazing light gathering capabilities when shooting wide open. When changing your aperture to defocus the background, the areas out of the focal plane appear blurred. This 'bokeh' effect of the blurred background is enhanced with circular aperture blades used in this lens.
11-blade circular aperture contributes to gorgeous bokeh
The 11-blade circular aperture maximizes the beauty of this large-aperture prime-lens, contributing to impressive images in which the subject stands out against a smoothly defocused foreground and background, as well as perfectly round points of defocused light. Conventional aperture blades have flat sides that create unappealing, polygonal-shaped defocused points of light. α lenses overcome this problem through a unique design that keeps the aperture almost perfectly circular from its wide-open setting to when it is closed by 2 stops. Smoother, more natural defocusing can be obtained as a result.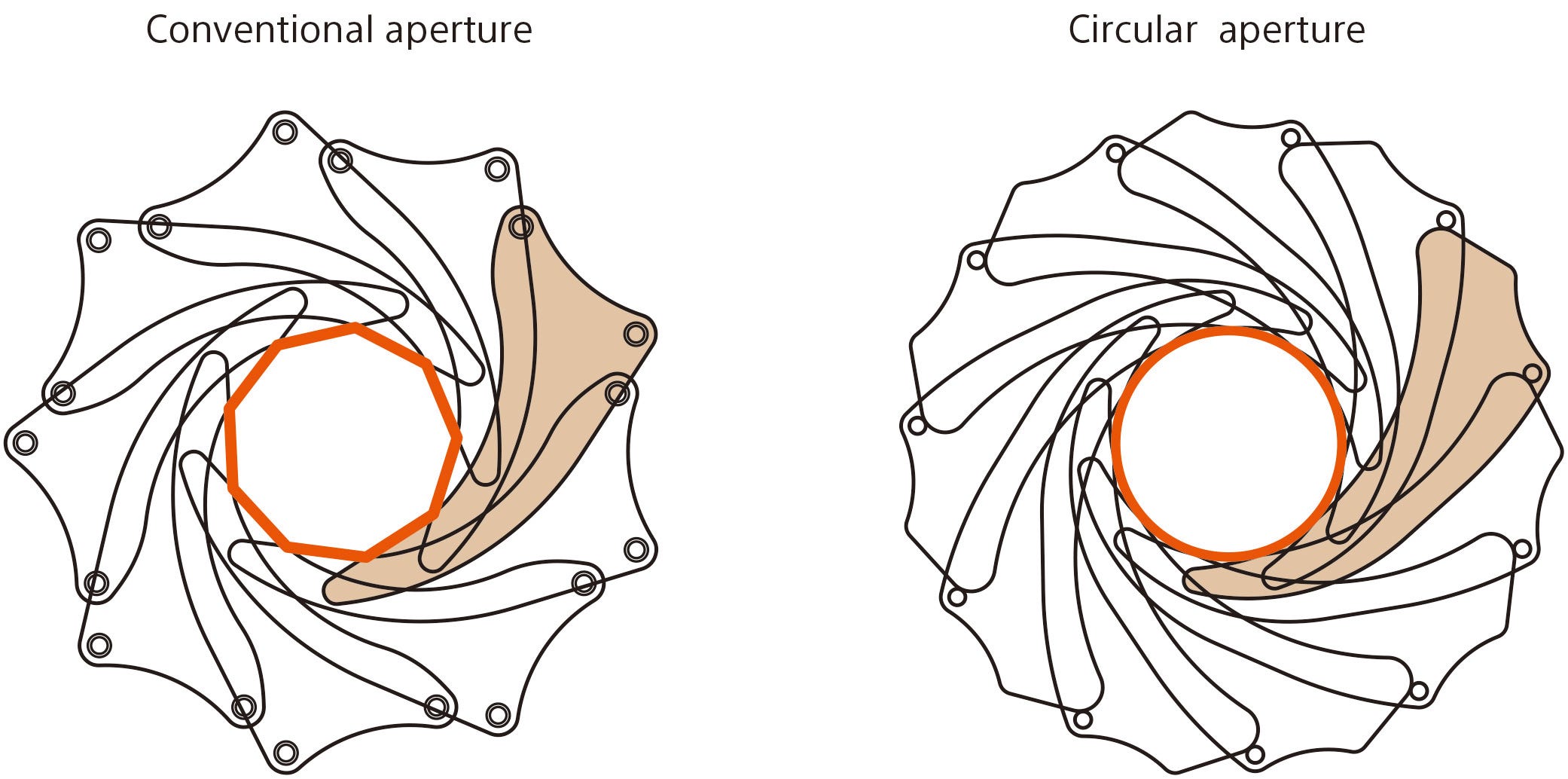 ​
Direct Drive SSM (DDSSM) for fast, quiet, precise focusing
The 24mm F1.4 GM lens supports hybrid autofocus for both contrast and focal-plane phase detection AF. It has a high-precision Direct Drive Super Sonic Motor (DDSSM) system that ensures exceptionally fast, quiet and accurate AF performance. The precision internal focus mechanism aids in AF speed by moving only the middle groups of the optical system and effectively minimizing focus breathing, while keeping the lens size compact and lightweight. In addition to being the ideal wide prime lens for stills, it is also exceptionally suited for video with a linear motor that takes on the vital role of 'wobbling' to providing high-speed actuation for the contrast AF detection system, for smooth, continuous AF.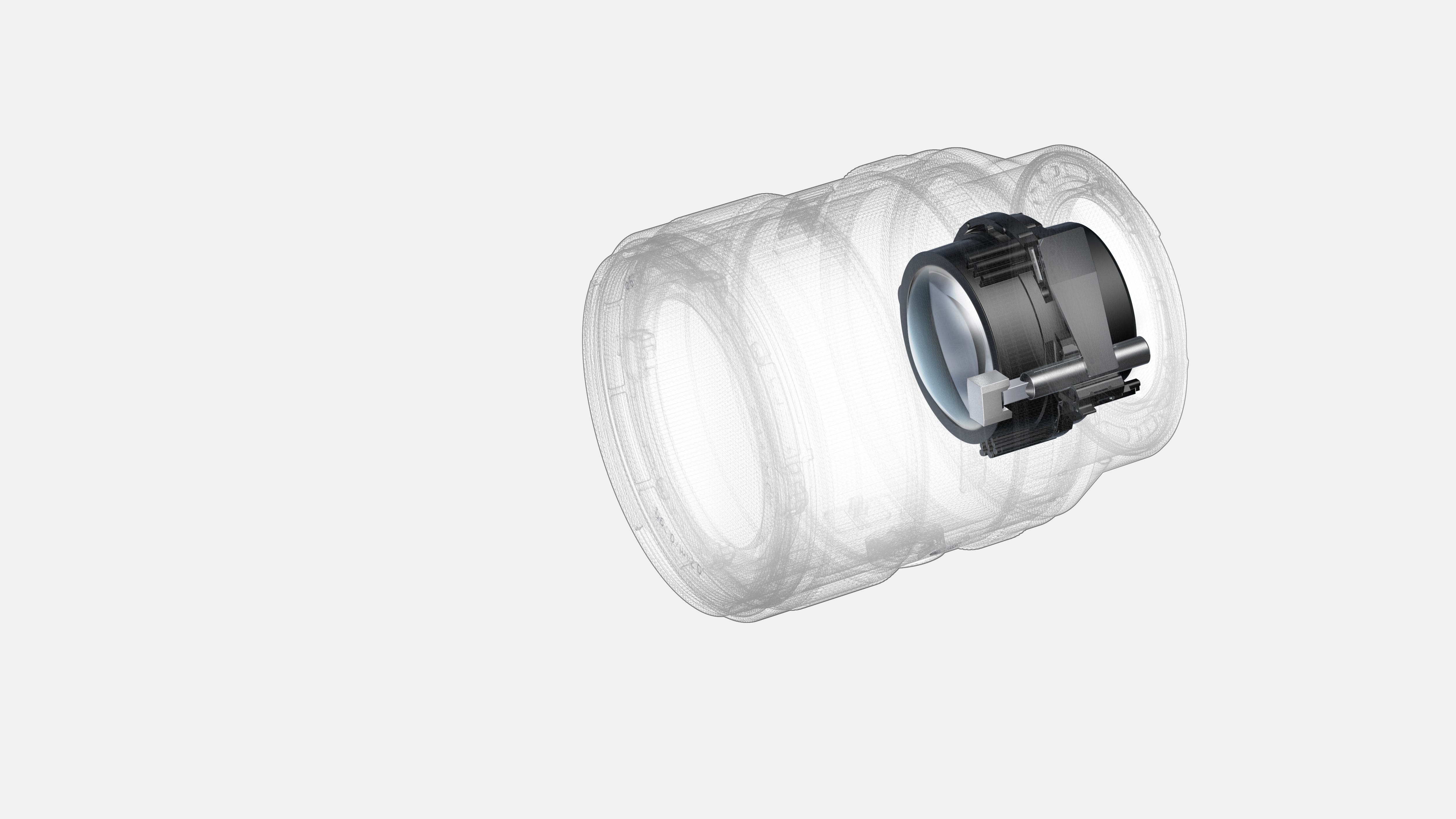 ​
Two XA (Extreme Aspherical) lens element
The 24mm F1.4 GM employs two XA (Extreme Aspherical) lens element, one of which is the front lens. This large-diameter front XA lens element features a new optical design, maximizing the advantages of the short mirrorless camera flange distance, and effectively suppresses various aberrations, especially the peripheral area in the frame and sagittal flare. Two XA elements compensate for coma, field curvature, and astigmatism that can be problems with wide-angle large-aperture optics. This also contributes to the compact and lightweight design.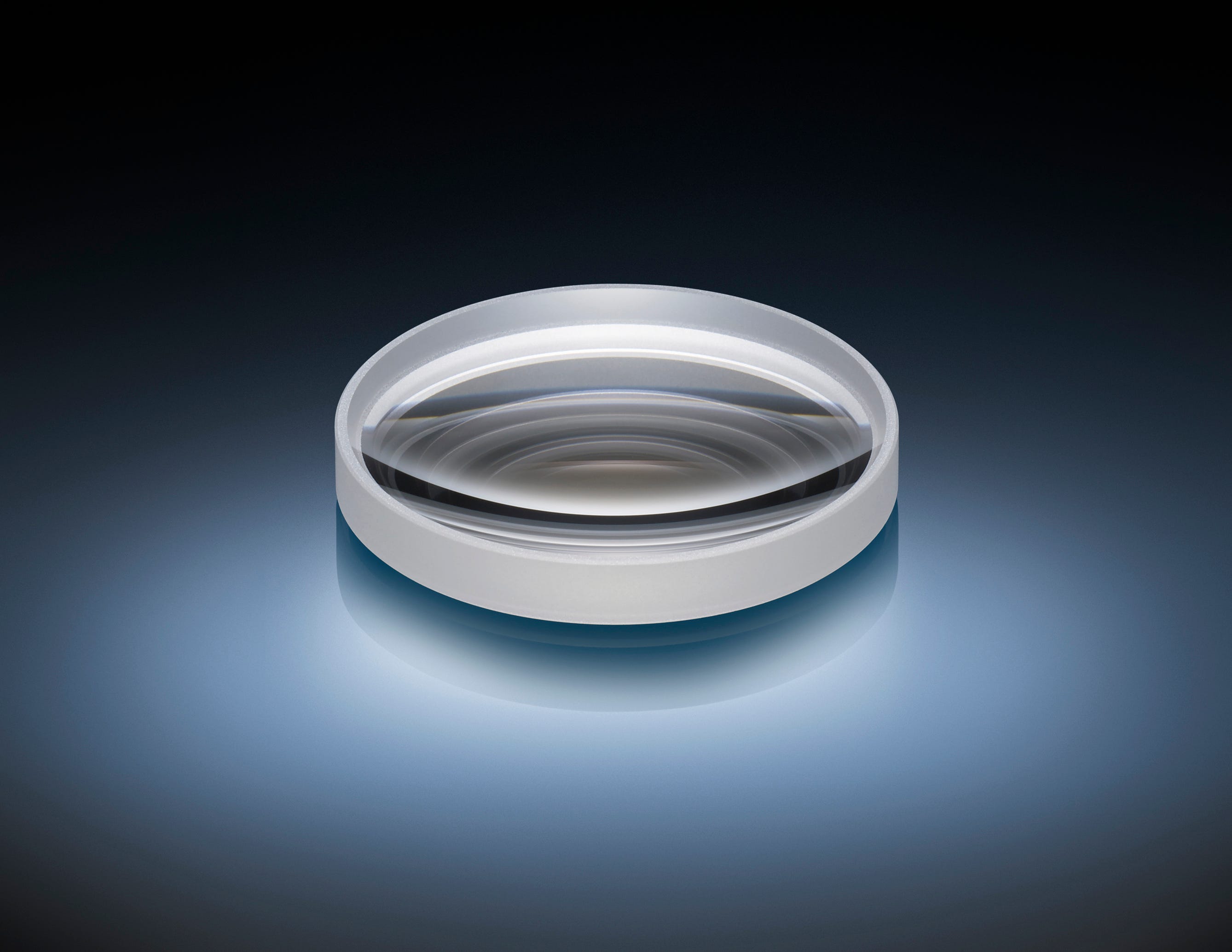 ​
Three ED (Extra-low dispersion) glass elements
Three ED (Extra-low Dispersion) glass elements take axial chromatic aberration and chromatic aberration due to differences in magnification out of the picture, maximizing resolution and bokeh while leaving precisely rendered edges with no fringing or unnatural coloration, while significantly reducing flare and ghosting.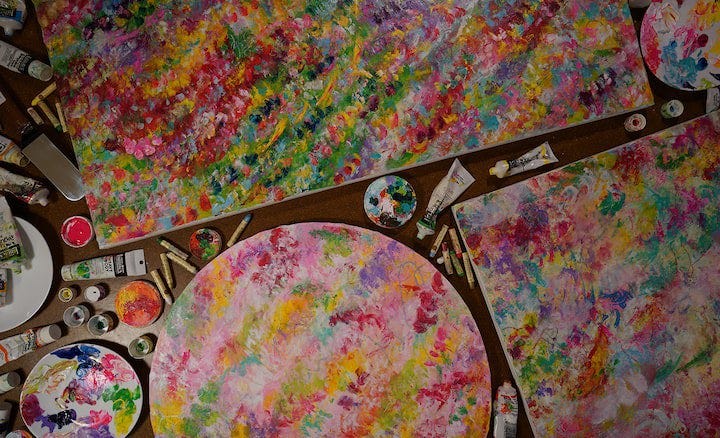 ​
Compact, lightweight design
This remarkably compact and lightweight lens weighs in at only 15.7oz (445g) with smallest in class dimensions of 3" (75.4mm) diameter and 3-3/4" (92.4mm) in length. It's compact, lightweight design enhances portability and mobility thanks to the combination of optical design utilizing two XA elements and the newly developed DDSSM (Direct Drive SSM) AF system.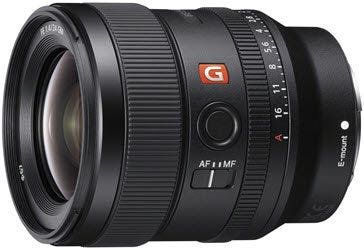 ​
Focus hold button, programmable for multiple functions
The focus hold button not only performs its primary function to lock focus when recomposing, but can be customized to a number of other functions depending on your needs. In addition to Focus Hold, these custom functions include: Eye AF, AF On, Aperture Preview, Shot Result Preview or Bright Monitoring.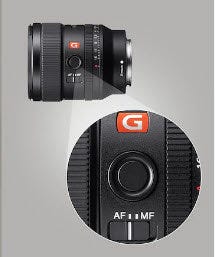 ​
Instant auto/manual focus selection
Instantly and quickly switch between auto and manual focus via an AM/MF switch on the side of the lens. This makes operation faster and easier as you let the camera and lens focus for you, or decide to take control and manually focus on the precise point you chose.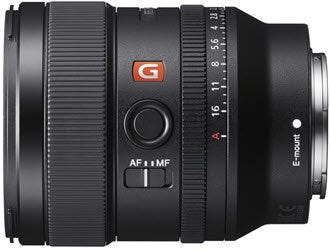 ​
Stunning F1.4 resolution in a mobile prime lens
Unsparing application of cutting-edge technology achieves refined G Master performance with consistently high resolution and soft, natural bokeh even at the widest F1.4 aperture setting. The lens is both compact and the lightest in its class2, maximizing portability. It also offers fast, precise AF drive, top-level control and reliability.
Advanced optical technology achieves spectacular resolution even at F1.4
Two XA (extreme aspherical) elements in an optical design that meets stringent G Master requirements contribute to consistently high resolution throughout the image area. Three ED (Extra-low Dispersion) glass elements are also included to effectively suppress chromatic aberration. These innovative optical design that minimizes sagittal flare so that point light sources are accurately reproduced.
State-of-the-art optical design faithfully reproduces point sources
A new optical design incorporating two precision XA elements suppresses sagittal flare, a common aberration in large-aperture lenses. Sagittal flare can cause an unnatural spreading of point light sources that becomes more pronounced towards the image periphery.
Innovative optical design in a compact, lightweight lens
A new optical design that reduces overall lens diameter by employing two XA elements, one for the front element that is normally the largest in a lens, combines with a newly developed DDSSM (Direct Drive SSM) focus drive system to achieve a remarkably light total weight of just 15.7 oz (445 g). The reduced size and weight of this lens makes it an ideal match for compact E-mount bodies, providing outstanding mobility.
Breathtaking G Master bokeh
An 11-blade circular aperture enhances soft, natural looking bokeh achieved through advanced design and a manufacturing process that includes precise control of spherical aberration. A minimum focusing distance of 0.79 ft (0.24 m) and maximum magnification of 0.17x mean close-up capability that, combined with the wide-angle view of the lens, can produce dramatic perspectives that also make good use of deep, lush bokeh.
Fast, precise, quiet AF for stills and movies
A newly designed high-power DDSSM optimized for this lens, delivers approximately three times greater thrust than the previous focus drive system. The increased power of the new DDSSM system provides faster, more precise, quieter autofocus drive capability, for outstanding performance when shooting stills and movies.
Professional control and dependability for stills and movies
Customizable focus hold button, aperture ring, aperture click switch, Linear Response MF, dustproof and moisture-resistant design3, and fluorine front-element coating adds up to fully professional control and reliability for movies as well as stills.
Specification
Performance
Focal Length
24mm
Aperture
Maximum: f/1.4
Minimum: f/16
Camera Mount Type
Sony E
Format Compatibility
35mm Film / Full-Frame Digital Sensor
Angle of View
84°
Minimum Focus Distance
9.45" / 24 cm
Magnification
0.17x
Maximum Reproduction Ratio
1:5.85
Optical Design
13 Elements in 10 Groups
Diaphragm Blades
11, Rounded
Image Stabilization
None
Autofocus
Yes
Physical
Filter Thread
Front: 67 mm
Dimensions (DxL)
2.97 x 3.64" / 75.4 x 92.4 mm
Weight
15.70 oz / 445 g
What's In The Box
1xSony 24mm F/1.4 GM Lens
1x67mm Front Lens Cap (ALC-F67S)
1xRear Lens Cap (ALC-R1EM)
1xLens Hood (ALC-SH154)
1xLens Case
Reviews